We have exclusively represented injured workers only in the Cities of Washington, Union and throughout Franklin County for a combined 48 years. We do not get paid unless you get paid.If you have been injured at work or in a work related accident or injury, we can help you get the workers' compensation benefits that you deserve. Workers' compensation was created to protect workers while they are on the job by providing certain benefits for employees that have been injured in the workplace. Under these laws, you may qualify to receive benefits including but not limited to:
Permanent Total Disability (PTD), Permanent Partial Disability (PPD);
Temporary Total Disability (TTD), Temporary Partial Disability (TPD);
Medical treatment, transportation expenses, disfigurement;
Second Injury Fund benefits
We invite you to review our introduction guide to work comp. Missouri workers' compensation system is constantly changing, either by statute, regulations, and case law. Your employer and their insurance company are not looking out for your best interests. Many times injured workers are terminated before receiving the necessary medical treatment they need to cure and relieve their symptoms. Do not let your employer/insurer wrongfully deny your case or stop treatment and blame your condition on an alleged asymptomatic degenerative condition. You should be focusing on healing from your injuries and let your attorney handle the responsible parties.
If you are injured while on the job in Washington, Union, and throughout Franklin County, it is important to seek the help of a workers' compensation lawyer to ensure your rights are protected. Call us at 314-631-6777 to speak with a Washington & Union injury lawyer and for a free initial case evaluation.
Washington & Union, Franklin County, Missouri Docket
Claims filed for workplace injuries for people who were either hired or injured out of Washington and Union, Missouri used to be assigned to the St. Charles Division office under the command of their Chief Judge. Effective July 1, 2015, all cases assigned to the St. Charles Division have been absorbed by the St. Louis Division. This means you will be assigned a St. Louis Administrative Law Judge. This does not affect your rights in your case other than you may have to come to St. Louis for your final hearing/trial.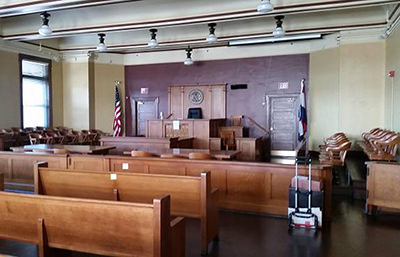 In 2015 alone, there were 1,592 injuries reported by employers in Franklin County. Washington & Union, Missouri do not have a statutory permanent courthouse assigned to Missouri work comp. It would take an act of the Missouri Legislature to create a permanent Division Courthouse closer to those injured in Washington, Franklin County, Missouri. Dockets are often held at the Washington City Hall and/or the downstairs municipal courtroom at the Washington Police department with Judges that travel from the St. Louis office. Union dockets are usually held now in the upstairs courtroom in the old courthouse. Your Final Hearing also known as trial may be in St. Louis. It is important to check your notice as docket locations can change. We have offices across Missouri so that it is convenient for you- this includes our office in St. Louis. We can also come to you if you are unable to travel due to your injury.
Why You Need a Washington & Union, Franklin County, Missouri Workers' Compensation Lawyer
Before 2005, Administrative Law Judges in Missouri Workers' Compensation had greater latitude when approving or denying settlement. This meant that Judges could point out when they thought the settlement was unfair so that a person without a lawyer could have at least some idea they were being taken advantage of. Judges can no longer do this. That is why it is important to hire a lawyer so you are not taken advantage of.
In Missouri workers comp, if you do not hire a lawyer, many times the employer/insurer will only offer you benfits based on the percentage of disability assigned by the Employer's hired doctor. If this is your situation, you should immediately call our office.
Here are some of the reasons why you should hire us as your Washington workers' compensation lawyer:
48 years of combined legal experience.
Thousands of injured people helped. We never represent insurance companies. We invite you to read our real client testimonials;
Family owned and operated- Two generations of Edelman lawyers;
Honest straightforward advice;
Respected leaders in our field;
Trial Lawyers- We actively take cases to trial;
All of our lawyers are former laborers and carpenters;
Our lawyers are known to pick up the phone when you call instead of staff.
Washington & Union, Franklin County, Missouri Workers' Compensation Lawyer
To learn more about your rights in a workers' compensation matter, call our injury lawyers at 314-631-6777 for a free initial, no obligation, review of your case.